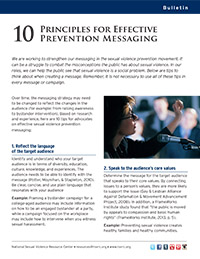 This is a Guest Blog Post by Sally J. Laskey, NSVRC Outreach Director and prevention enthusiast.
Today at the 2015 National Sexual Assault Conference in LA, our partners at Berkeley Media Studies Group (BMSG) provided a workshop entitled "How do We Get Better at Talking about Prevention? Findings and Implications from an Analysis of Sexual Violence in the News"
After over a year of interviews with experts from around the country (likely including many of you that are reading this blog post) and an analysis of media coverage of sexual violence from 2001-2013, we now have research and recommendations on what advocates and journalists can do to make prevention our message. We have been talking about frameworks and perceptions for some time, but now we have some action steps.
Here are some highlights for advocates and preventionists and we will be talking more about ideas for journalists in a later post. I encourage you to read the full report if you have the chance, it does contain good news!
The authors make these five key recommendations to advocates:
Create news that makes prevention part of the conversation.
Shape the conversation by contributing opinion pieces.
Prepare for the long term by building relationships with journalists.
Illustrate the context around sexual violence and the specifics of sexual violence prevention.
We will have more tools and tips soon. This comes at a good time as Its on Us launches a new PSA on consent this week and so many of us are gathered together this week to broaden, deepen and grow the understanding of sexual violence prevention.  It is on us to build more conversation about prevention and with your help we will make the message stick.  Please share your reactions to the report and recommendations below.