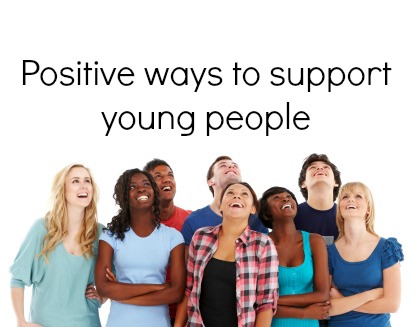 Recently I had the opportunity to attend the first annual
Pennsylvania Adolescent Sexual Health Conference
. This event united public health and youth-serving professionals in Pennsylvania, and together we explored approaches to support healthy, happy young people. As a preventionist, I love the idea of making youth a priority, and it was exciting to be in a youth-focused space. I firmly believe that youth are assets and allies to  our prevention work, but I still had my fair share of revelations at this conference on how to better support youth. 
Keeping the adult lens in check is key
Although I think young people are awesome, this does not mean that I never feel a little nervous, out-of-touch, or challenged when it comes to
connecting with teens
. It's easy to get caught up in the idea of the young and the reckless, a portrait of aggressive teenagers that speckle news headlines and keep sitcoms interesting. But it's important to keep judgment,
adultism
and fear in check, because these may be the most difficult barriers to overcome in supporting youth. 
Start by understanding adolescent behavior from a developmental perspective
This was a big aha idea for me. From a developmental perspective adolescence is the only time in life that we are growing, changing and defining on a level that compares to our early childhood developmental markers of learning to walk, talk and relate. Yet in our early years when we are reaching all these milestones, our successes, missteps, and challenges are all understood in the context of this growth. It's expected that we will stumble before we take our first steps, and generally we are greeted with support and encouragement as we gain our footing. 
Adolescent developmental tasks are huge undertakings. This is the point in our lives when we are adjusting to our changing physical self, sexually maturing body and feelings, and defining our personal sense of identity. The work doesn't end there and, I love this list of the
10 critical developmental tasks
of this stage.  The difficulty is that during this stage youth behaviors are often misunderstood as they navigate this invisible developmental work. Adults often view and interpret behaviors through an adult lens that triggers the mindset of "kids these days" rather than acknowledging challenges and growth by offering support. 
Promote positive strategies to support youth and nurture healthy development
Building an awareness of the developmental lens for understanding adolescence is a great place to start in supporting youth. Once we understand the developmental context of this stage, we have an opportunity to engage youth in a strength-based and supportive way. A positive framework should drive our efforts to engage with youth, and every challenge should be understood as an opportunity.
A discussion of this was shared during the conference keynote presentation by Glynis Shea of the
Konopka Institute for Best Practices in Adolescent Health
.  Shea provided an equation that we can all play a part in as we connect with our communities. As allies of healthy youth development, we can provide the developmental context that highlights the supportive role adults can play as they engage with youth and one another. Consider the hot topic of sexting or new controversial technology such as
Snapchat
. Let's hit the pause button on the adultist frame of "kids these days" and consider the following response: "During adolescence young people are adjusting to their sexually maturing bodies. Our job as adults is to support their development by ensuring they have access to reliable information." Consider how this dialogue might help us to shape our response from criticism to empowerment?
Overall this conference was such a great opportunity to discover resources and tools on this journey to better support youth. As we begin to plan for SAAM 2014 youth have been identified as a key audience, so you can expect to hear more from us on this exciting topic. If you are looking for more ideas on how to support youth, check out these tips for
integrating positive youth development into programs
.
What's your positive approach to supporting youth?