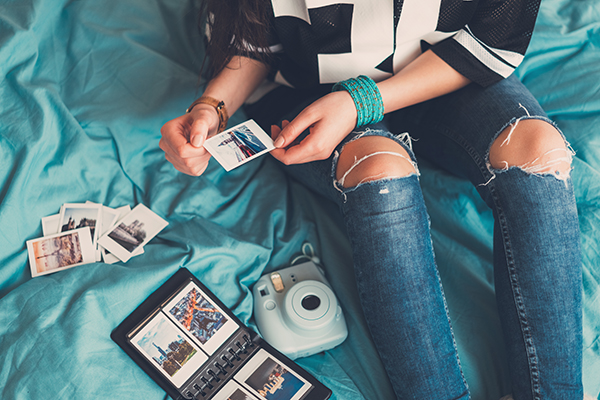 Are you searching for a way to get creative with your activism? Look no further than NSVRC's #30DaysofSAAM Instagram contest! The contest is an opportunity for individuals and organizations to participate in Sexual Assault Awareness Month throughout April in an engaging and meaningful way. 

To learn more about the contest and to share some tips and tricks for those hoping to snag some prizes this year, I sat down with Emily Bigger, NSVRC's Graphic Design Specialist, who oversees the contest.  

What is the #30DaysofSAAM? 
The #30DaysofSAAM is an Instagram contest that spans the entire month of April. The goal of the contest is to help bring visibility to Sexual Assault Awareness Month. The contest also gives individuals an opportunity to share support for survivors of sexual violence and to help start powerful conversations. 

Here's how it works:
Each day in April has a corresponding prompt. Participants respond to the prompt by taking a photo and posting it to Instagram.  For example, April 1st's prompt is "Something Teal." As you can tell, the prompts are designed to be open-ended so everyone can interpret and respond to them with as much creativity as possible. The only thing that isn't allowed is finding images on Google – all the photos must be original content to qualify.

The contest is broken down into four rounds throughout April. At the end of each round of prompts, a winning photo is chosen. The winning photo is featured on NSVRC's Instagram page and the winner gets a prize pack to recognize their efforts. 

How can I participate in #30DaysofSAAM? 
First, you'll want to check out the prompt list and brainstorm ways you could respond to the prompts. It can help if you plan ahead! When you post your photo, just tag @NSVRC and include #30DaysofSAAM in your caption and you'll be entered to win! 

You don't have to respond to every prompt, but many folks do! We're definitely looking for quality over quantity when selecting a winner. For instance, you could submit just one really amazing post that is chosen as the winner. 

Who can participate? Can groups participate and workplaces join in? 
Anyone with an Instagram can respond to the #30DaysofSAAM prompts, but to be entered into the contest, you must have a public account. Individuals, groups, and offices are all encouraged to participate!

How does participation look different for a group versus an individual?
In past years, we've noticed that groups are more likely to post about events they host and might include photos of a larger group, while individuals tend to focus on more personal actions or ideas. But it's important to remember that there's no right or wrong way to participate. 

What is in the prize pack for the winner?
The prize pack is an incentive to participate – but it also contains helpful tools and resources. Each prize pack includes a Your Voice Has Power shirt, poster, Believe Survivors tote bag, End Victim Blaming sticker, temporary tattoos and other special campaign resources.  

How many years have you held the #30DaysofSAAM contest? How have you seen it change over the years?
The #30DaysofSAAM contest began in 2014, so this will be our 5th year. The amount of folks participating has gone up every year – and we're expecting to see a huge increase in participation this year given the attention the issue of sexual violence is receiving recently. 

What suggestions do you have for first-time participants? 
The best posts are ones that are creative and think outside of the box. The posts must be original content anyway, so the more unique the better!

What are some of your favorite past winners and what are some of the prompts you're looking most forward to people responding to this year?
Some of my favorite winners have been posts that go above and beyond what's being asked in the prompt. For example, I've seen people design their own coloring page or poster, which shows thoughtfulness when responding to the prompt. I also love to see the teal ribbon nail art people did for our Helping Hands prompt in the past. This year, I'm excited to see some of the crafts people make as well as how people utilize SAAM swag like our totes, shirts, and temporary tattoos. 

How do you come up with the prompt ideas?
First of all, we re-use popular prompts from years past that folks really engaged with. Other prompts correspond to specific events in April like the SAAM Day of Action, the Day of Silence, and Denim Day. We try and create a mix of prompts in the hope that everyone can find a couple they feel compelled to respond to. I think they're a good mix of serious and more light-hearted. For instance, we have a prompt that asks participants to share their message to survivors, while we have another more light-hearted prompt which asks participants to share a photo of their SAAM Bestie/Buddy/or Furry Companion.  

What is the benefit of participating in the #30DaysofSAAM contest other than winning prizes?
The #30DaysofSAAM contest is a great way for everyone to embrace their voice and raise awareness about sexual violence prevention. Many of the prompts are designed to be reflective, such as "My Go-To Self-Care Activity" or "How I Empower the Next Generation." Our hope is that by participating in the #30DaysofSAAM contest, people are able to spread awareness about sexual assault while also reflecting on their own perspective and experiences.
We hope you'll take part in the #30DaysofSAAM contest! You can find the full list of prompts here and be sure to follow NSVRC on Instagram.