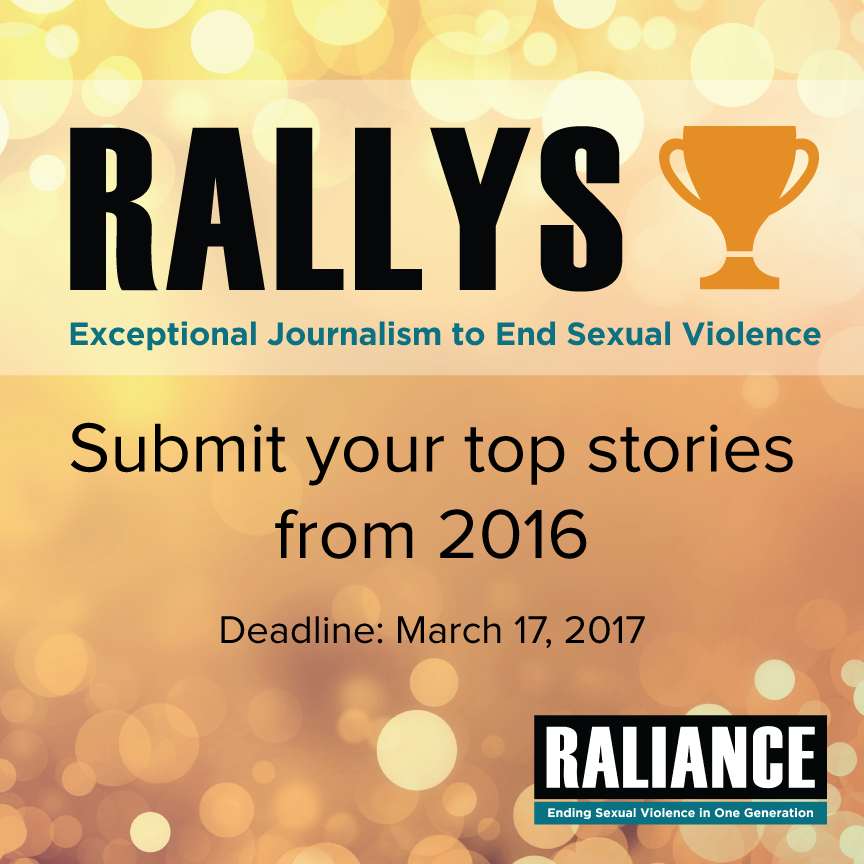 Sexual violence is a complex topic for journalists to cover and can be even more difficult for the general public to understand.  We know what we do and say about sexual violence matters. 
In our annual progress report , we talked about the capacity for the news media to tell more complete stories that enhance the public's understanding of sexual violence and break down misconceptions and myths. News has a profound influence on shaping our national dialogue about sexual violence as well as the common language we use to talk about it. It is vital we amplify the voices of those marginalized and least quoted – survivors, advocates, and other community members. At the same time, we must support, honor and continue to work closely with the news media. 
In our next installment of the annual progress report, we will delve more deeply into this concept and the strategies to engage the media to tell more complete stories. 
The RALLYs Awards: celebrating media excellence
Luckily, we have many examples of responsible and high-impact reporting showing the impact of sexual violence as well as the depth of context connecting specific events with broader social patterns. The RALLYs Awards celebrates media excellence and coverage across four categories: everyday journalism, digital innovation, investigative series, and feature story. Raliance invites journalists to submit their entries  by March 17, 2017.
Media Summit: continuing the dialogue
To continue this conversation, Raliance, in partnership with The Poynter Institute for Media Studies, will present The RALLYs at the Raliance Media Summit  on Tuesday, May 9, 2017 at the Kaiser Family Foundation in Washington, D.C. This one-day event will bring together journalists to advance news coverage on sexual assault. To learn more about the event and contest, please visit: www.raliance.org.