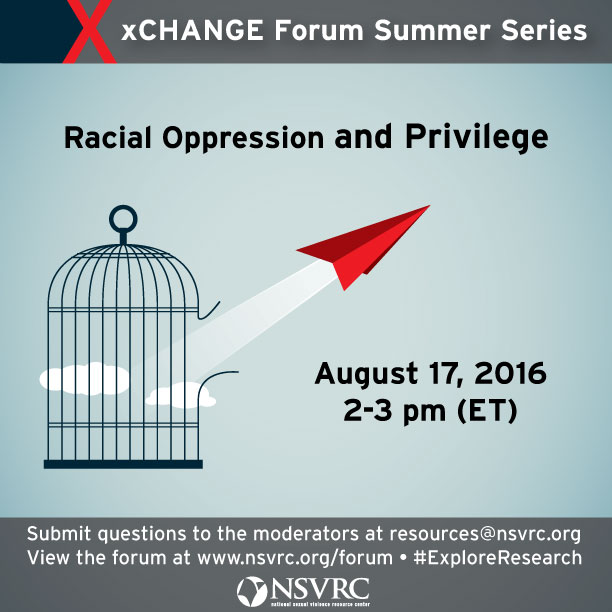 What's race got to do with it? To round out our xCHANGE forum summer series, we're talking with the Texas Association Against Sexual Assault (TAASA) about the connections between racial oppression, privilege and its' connections to sexual violence; and how we hold ourselves, our peers, communities, and the sexual violence movement at large accountable so that together, we can be looking to our future to build the cultural change the anti-sexual violence is capable of for all survivors.
Until we are recognizing, learning, and listening to the connections that exist between race and sexual violence, we can begin to build the foundational blocks of supportive, healing services to survivors of sexual violence that are truly inclusive to all people
During our one-hour live discussion on August 17th (2-3 p.m. ET/ 1-2 p.m. CT/ 12-1 p.m. MT/ 11 a.m.- noon PT) TAASA will facilitate space for conversation, resource sharing, and steps we can all make on the road to accountability. If you're new to the movement, need a little more grounding, or just want to brush up on your racial justice research there will also be space for exploring historical racism and privilege. Together, we can have this space and opportunity to continue an imperative conversation to the movement, as we look to our future to build as one, a whole, integrated, inclusive movement.
Already have questions for our moderators? Send them to resources@nsvrc.org. I'll be compiling the questions and sharing them with our moderators ahead of time so that your questions can be answered on the spot during the live discussion!
Head on over to the xCHANGE forum to learn more about our guest moderators and how to participate on the day of the live online discussion; and don't forget to send us your questions!