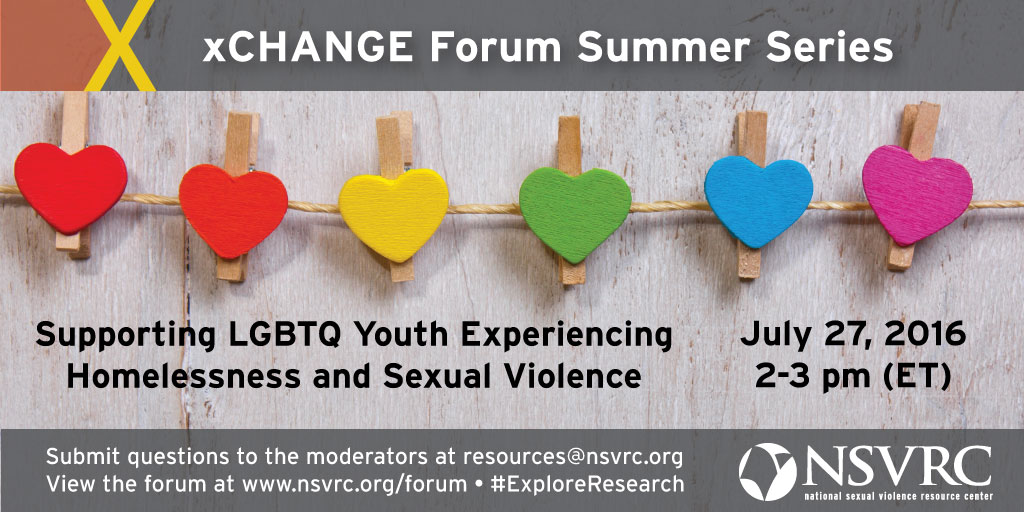 Let the summer of research roll on! Next up in our xCHANGE forum summer series of online discussions, we're talking with guest moderators Christian Rummell, Senior Researcher with American Institutes for Research; and both Meredith Dank, Senior Research Associate and Lilly Yu, Research Assistant with Urban Institute on supporting LGBTQ youth experiencing homelessness and sexual violence.
Connections between youth homelessness and sexual violence are a reality, and research has found that when serving youth who experience homelessness, trauma-informed services are imperative to letting youth guide their experiences, build resiliency, and lessen their traumas from both sexual violence and homelessness.
During our one-hour live discussion on July 27th (2-3 p.m. ET/ 1-2 p.m. CT/ 12-1 p.m. MT/ 11 a.m.- noon PT) our guest moderators will set the stage sharing current research and projects. The conversation will allow space to discuss the connections between their work and how advocates and preventionists can use research results to improve standards of care for LGBTQ youth.
Already have questions for our moderators? Send them to resources@nsvrc.org. I'll be compiling the questions and sharing them with our moderators ahead of time so that your questions can be answered on the spot during the live discussion!
Head on over to the xCHANGE forum to learn more about our guest moderators and how to participate on the day of the live online discussion; and don't forget to send us your questions!