Dear Engaged Bystander:  A few months ago, I had the pleasure and privilege to interview Cassandra Thomas , Director of the Houston Area Women Center for her incredible story of hope.  In her story, she certainly busted my own stereotype of a college fraternity when some friends at a fraternity literally pulled her from a car because she was drunk, with a guy she did not know and they also knew she was recovering from a recent rape.  Cassandra's honesty about this event is both moving and profound.  She also takes this story and the commitment of these young men into her work today where she is passionately committed to growing the circle of those who will speak out.  In fact she believes that we don't have a right to not speak up when something is wrong. 
I wrote about her story in my blog and now you can also listen to her story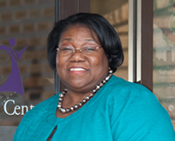 through an NSVRC podcast. 
Take a minute to listen to her story.  And if you are moved, take a minute to write in your own story.  NO event is too small to share.  In fact it is these smaller day to day events that truly add up to a new social norm and a new way of just being with each other in the world
Thanks again Cassandra for sharing this story with us.
Warmly
Joan