A few weeks ago I attended the Healthy Masculinity Summit in Washington DC. A hardy group of about 200 people gathered to have conversations about masculinity. Folks from all walks of life, professions, ages, cultural identities, and genders defined and redefined masculinities. We listened, shared, mused and collectively explored ways to act to rewrite the traditional understanding of masculinity. This summit felt very different from other conferences I've been to. There were not top-down presentations. People didn't need to take notes, because they were learning and sharing through stories. The conversations were documented by a cartoonist during plenary sessions. It was really cool!
I took some pictures to help document the conversations that happened here. Check them out below: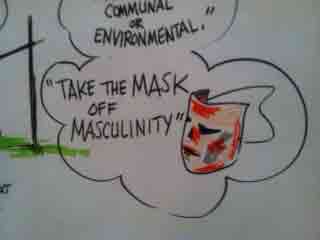 Take off the mask of masculinity.
This image shows the overview of the first day plenary, which discussed morning conversations on spaces impacted and influenced by masculinity. These spaces included sports culture, fatherhood, school, faith communities, and business.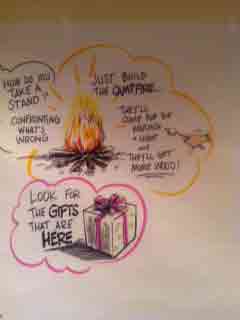 This image, based on feedback from attendees, shows that there are gifts within the room and we should honor what's happening here. It also emphasizes that building healthy versions of masculinities will attract others to reassess and make change.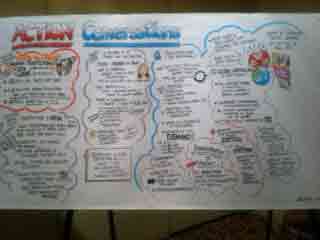 Here you see an overview of the feedback on "Action Conversations." After defining and exploring masculinity in different spaces on the first day, we moved to discuss concrete ways to take action to affect it in the second day.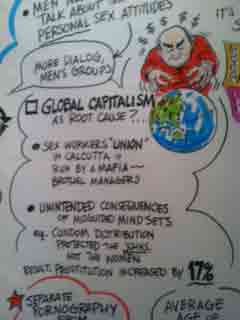 Global capitalism is scary!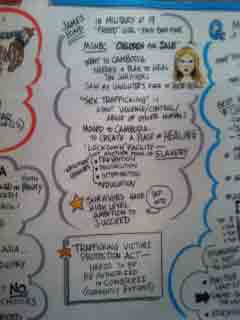 Plenary panelists on action day discussed their work to end human trafficking, and the role that masculinity plays in this social ill. They emphasized that trafficking survivors have an undeniable ambition and will to succeed in this world.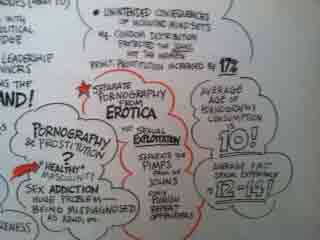 Once again, I experienced some very torn perspectives on the role of pornography and erotica in sexual violence. This topic has surfaced in nearly every conference I've attended over the past year or so, and it seems to bear a more specific discussion (future blog post?). While many folks identify a clear link between consuming pornography and engaging in or normalizing sexually violent behavior, other reports suggest it can deter it, or that the conversation is not broad enough to address all of the nuances and variations in sexuality and erotica. 
The send-off for this summit was a healthy masculinity action toolkit (send an email to info@healthymasculinity.org for more information), and a call to continue the project and the conversation over the next couple of years. I'm pretty darn excited to be a part of this conversation!