by Karla Vierthaler, MPA, Advocacy and Resources Director for the National Sexual Violence Resource Center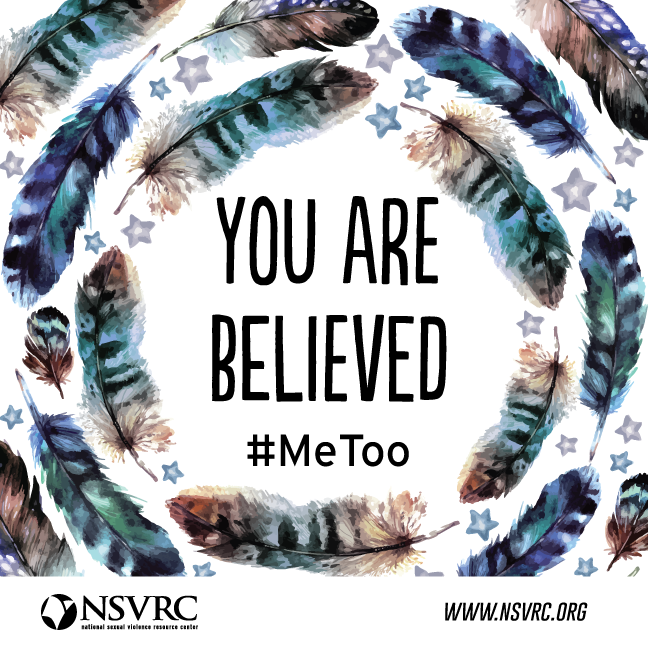 I've been working as an advocate to end sexual violence for 20 years. That is really irrelevant, because if you've done this work for even a year (paid, unpaid, professionally or not), you've done it for 50. It stays with you and becomes part of you.
The news over the last two years has changed me. I have been overjoyed, heartbroken, invigorated, enraged, validated, and terrified simultaneously. I have brought work home, woken up at 2 a.m. to process, created an editorial column in my head while in the shower, had impromptu lengthy conversations with coworkers in the hallway, and many more instances where the news has impacted my life in ways I can't remember currently. My emotions are complex; bear with me while I explain.
I am overjoyed because I see survivors—of varying forms of sexual violence and from varying communities—choose to speak out. And the world is not shutting down their voices.
I am heartbroken because I know survivors—those who choose not to speak out, for many reasons—are seeing this inescapable, massive unveiling of violence and harm and trauma.
I am invigorated because this is work my colleagues and I have done for years. We have worked long hours, with little recognition and support, against what felt like unsurmountable barriers. We heard, "Oh, that's really meaningful work," at parties to then hear a rape joke from across the room. Now, some of us don't go to parties.
I am enraged because sexual violence has been happening since the beginning of time. Sexual violence has been used by people in positions of power (situational, personal, institution, and other forms of power) FOREVER. We just have not heard survivor's voices because they didn't feel safe to speak out.
I am validated because sexual violence has been happening since the beginning for time—AND NOW WE'RE TALKING ABOUT IT AND BELIEVING SURVIVORS.
I am terrified because what happens now? The backlash is already happening—people are calling this a 'witch hunt,' they are doubting survivors, and they are fearing for men who have been and will be 'falsely accused,'--and this is likely only the beginning.
So what now? What I plan to do, what I want to humbly offer to you, is that we take care of ourselves. Turn off TV, social media, and whatever else bombards you with the reality that so many people have been harmed. Take a bath, read a book, watch a comedy special (except maybe Louie C.K.), cuddle with your pet, partner, or kiddo. Make yourself happy and hopeful.
Right now is one of our times. A time where our voices are being sought and heard, a time to support and validate survivors, and a time to change our culture. But, it is also a time to take care of ourselves so that we can continue to do the work.