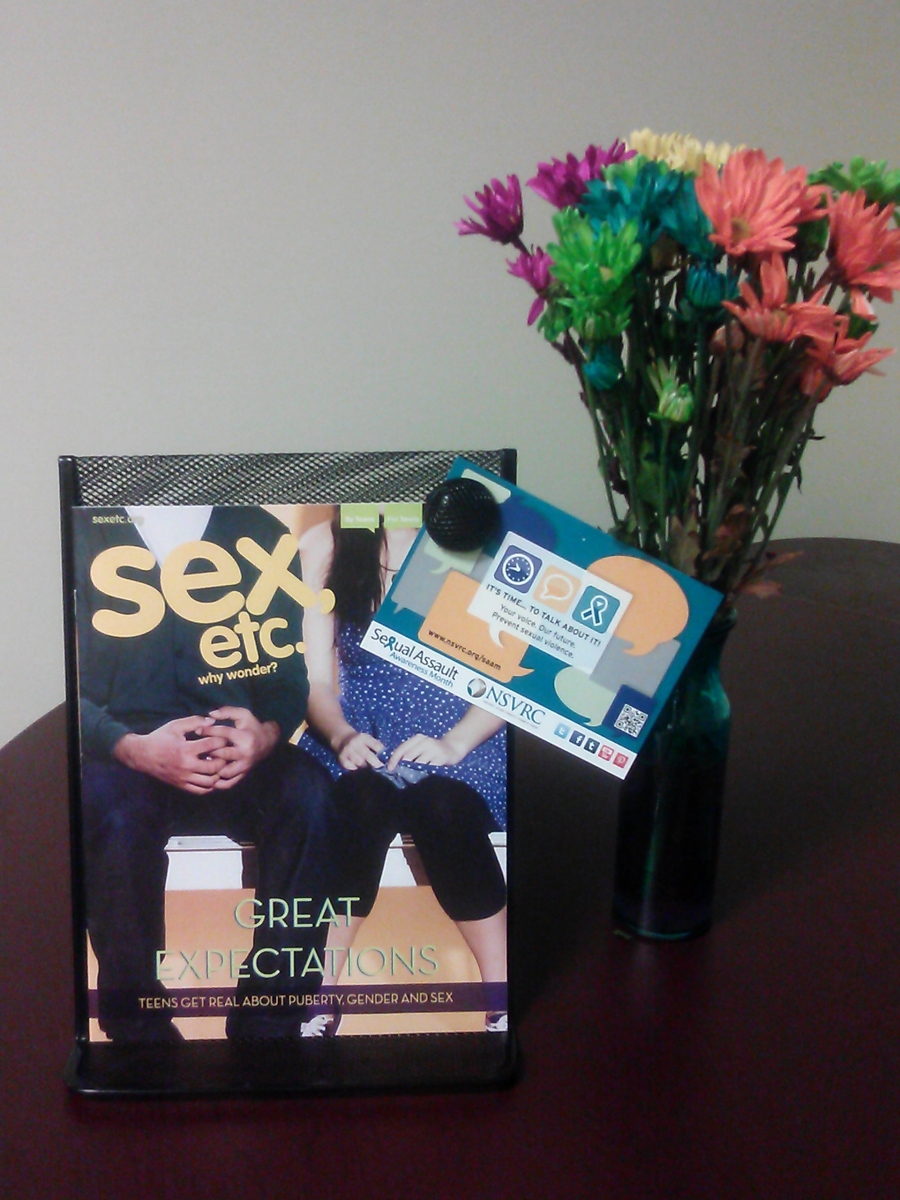 Happy April and Happy SAAM 2014! Here's hoping for new growth, bright sun and a fabulous campaign! The NSVRC library holds some fabulous resources that will enhance the 2014 SAAM theme of Healthy Sexuality. We are proud to promote these sources alongside the already fantastic resources that the NSVRC website currently has to offer. So, here's to an incredible month! May the passion we have to promote healthy sexuality be apparent thoughout April, as well as the rest of the year and many more to come.
I have to start by highlighting the magazine Sex, Etc. by the Center for Applied Psychology. Along with the website, this is a magazine written by teens and for teens and is published three times throughout the year. Sexual health professionals also review and endorse the information that the teens provide. Sex, Etc.; also known as Answer's Teen-to-Teen Sexuality Education Project, harnesses the power of peer education to deliver accurate sexual health information and present a positive view of sexuality.
S.E.X. : the All-You-Need-to Know Progressive Sexuality Guide to Get You Through High School and College by Heather Corinna is an excellent resource for teen and adults. Heather Corinna, along with scarlenteen.com have been providing sex education for young adults, parents and mentors for nearly ten years.
S.E.X. provides the following information:
- A sexual readiness checklist and illustrations of female and male reproductive anatomy
- How to love your body, even when it's changing every day
- Tips on safer sex for body, heart and mind
- An in-depth birth control breakdown
- How to create and enjoy the relationships that are right for you
- Popular mechanics of partnered sex: sexual activities explained, including pregnancy and STI risks
- STIs 101: what they are and how to keep from getting them.
 
Another powerful resource is Speechless by Scenarios. This is an excellent DVD and kit. The DVD introduces the audience to Desmond who has a secret he can't share with anyone, leaving him feeling powerless. With the help of his father and a new friend, he is able to tell his story of being sexually assaulted and end the cycle of abuse. The kit offers educators an opportunity to expose their students to the story of a teen who has experienced sexual abuse, but also gives them the chance to lead their classes into active and important discussions. The kit also contains handouts for enhancing those discussions.
I have barely scratched the surface  of the many fabulous resources you have at your fingertips through the NSVRC library. I would encourage you to continue to explore the nsvrc website for the latest SAAM updates and to check out the newest SAAM blog, Are you Ready for SAAM? Good-luck in your work and may this be a fabulous month!